History
"To do everything possible to aid in marketing profitably all the products raised and grown, processed and manufactured in northern Colorado; to simplify distribution of those products, and to stimulate the development and success of economic, social and educational endeavors in the region KFKA serves." – Mission statement developed by owner & GM H.E. Green in the 1920's.
"If you don't want it heard on KFKA, don't do it!" – former news director Jack Redus
---
Colorado's 1st commercial radio station began broadcasts from the Colorado State Teachers College (now University of Northern Colorado) in 1921, but can trace it's history back to 1909. Greeley High student Gordon G. Moss was granted a license to operate "GGM", a wireless "dots-and-dashes" radio station. Barring the period of World War One, GGM would be operated on a regular basis before the license was transferred to Colorado State Teachers College in 1921. The physics department at CSTC would operate the station until early 1930, as Professor Charles Zimmerman built a legitimate broadcast transmitter in 1924 and the station began broadcasting on a regular basis. The Greeley Commercial Club agreed to provide announcers for the programs.
The college had a history of radio research and experimentation that dated to before World War One, although information about these early activities is limited. On June 16, 1914 the Greeley Tribune reported that physics professor Frank L. Abbott had obtained a "$500 wireless outfit" that included a two-kilowatt spark transmitter capable of making Morse code transmissions, and with the help of local radio amateurs Raymond Wolfe and Alphonse Mott was installing an antenna atop Cranford Hall. A campus Wireless Club was formed that same year. In early 1917, the college was issued a "Technical and Training School" station license, with the call sign 9YZ, however the station soon had to be dismantled, as all civilian radio station licenses were canceled upon the United States' entry into World War One in April 1917.
The station was placed at 1210 kHz in 1923. It moved to 1100 kHz in 1924, 750 kHz then 1200 kHz, both in 1927. It moved to 1010 kHz in November 1928, then 880 kHz in 1941. As a result of the NARBA agreement it moved to 910 kHz in 1941 and shared time with KPOF/Denver. It moved to its current frequency in 1948, ending the time-share agreement as KPOF remained at 910 kHz.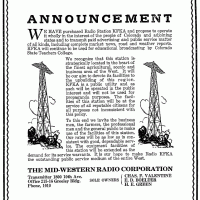 The college sold KFKA on April 11, 1930 to the Mid-Western Radio Corporation. CSTC instructor Charles Valentine and local accountant H.E. Green headed the corporation. The transmitter was located in Gunter Hall, with studios in the music conservatory and in Cranford Hall on campus. At the time, school president Dr. G. W. Frasier reported to the FRC that: "During the last two or three years, we have found it to be a financial burden to the institution. We are very enthusiastic about radio and would like to own and operate a station, but at the present time we can not afford to pay the expenses."
Green would air the first newscast on the station in 1923 and began delivering a daily commentary in 1926. Remote broadcasts began in 1923 with Mary Blake's organ concerts at the Sterling Theater being aired live. The station would establish a dedicated phone line to the Union Stockyards in Denver, allowing for market reports form Carl Jordan to be broadcast daily.
Sports coverage also became an early staple as a dedicated phone line was run from the studios to Jackson Field for play-by-play of CSTC football games. By 1940, Greeley High School games were being carried.
Green would purchase the station outright in 1932, moving its studios to downtown Greeley, eventually landing at the Camfield Hotel. The Gunter Hall transmitter would be replaced by a state of the art Blaw-Knox one in 1935, set up east of Island Grove Regional Park. A year later, KFKA became a  member of the Mutual Broadcasting System, presenting such programming as The Lone Ranger, Captain Midnight, the Green Hornet plus commentary from Fulton Lewis, Jr, and Morey Amsterdam.
Beginning in 1935, Francis Price became general manager, a post he held until 1952, when he passed away. Bill Stewart would serve as GM until 1956, when H.E. Green's son Ralph took over the post. Stewart would go on to be the owner of KLMO in Longmont.

From the time the station moved into its current digs at 11th Avenue and 9th Street in Greeley until now, the radio business changed dramatically, and so did ownership. Between 1966 and 2002, six different owners or groups controlled KFKA, including a stretch of seven months where the station went silent because of a bankruptcy.

Among the changes: the addition of KFKZ-FM (96.1) in 1975. The FM would be sold off before the 1990's.
Longtime GM Joe Tennessen was named president and GM in 1966 after the Harris Group purchased KFKA. He would serve in that role for parts of 4 decades.
In 2002, Justin & Ken Sasso purchased KFKA from Monte Spearman, beginning the current era of stability. The Sasso family has retained ownership since, despite Ken's passing in March of 2004. Justin would serve as GM until 2012, when he became the Executive Director of the Colorado Broadcasters Association. His brother, Damon, currently serves as the station's managing owner, with Brady Hull handling the day-to-day management as GM.
---
Much of the material presented here is from the book "KFKA's Diamond Jubliee", produced in 1996. Other materials are quoted from additional online sources, including Wikipedia, plus the timeline included with this Greeley Tribune story from 2002. The station will celebrate its 100th Anniversary in 2021. – TC