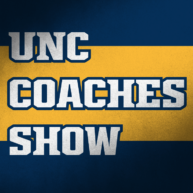 Show Times
Not Currently Scheduled.
About the Show
Jump to:
The UNC Coaches Show is set to return on Northern Colorado's Voice 103.1 and 1310 KFKA in 2022. Blake Olson, the Voice of UNC Football and Jerry Schemmel, the Voice of UNC Men's Basketball will host the weekly Coaches Show at The G.O.A.T. Sports Bar Tuesday nights from 6-7 pm.
The UNC Coaches Show takes an inside look at Northern Colorado Athletics running from the start of the football season through the men's basketball year. Head coaches Ed Lamb and Steve Smiley will be regular guests on the show along with other UNC coaches, student-athletes and administrators.